Good reads about creativity and self-growth
Building the habit of reading helps you learn, and it raises your confidence. Dive into books, and feed your mind good stuff.
Reading non-fiction books helps to challenge thinking and keeps your mind sharp. Listed below are some of my favorites that have left a strong mark on me and many of which I regularly reference.
Atomic Habits
James Clear
Understand how habits are formed, and learn how to make new ones.
A Million Miles in a Thousand Years
Donald Miller
A story about Miller's life that helps you reflect about your own life story, its purpose and meaning.
A New Earth
Eckhart Tolle
Recognize and reflect about our attachment to ego and gain perspective about how to live a purposeful life in the present moment.
Present Over Perfect
Shauna Neiquist
Learn how to step away from the busy of work and life, and embrace the quiet, the slowing things down, and in being present.
The Gifts of Imperfection
Brené Brown
Recognize the value and learn how to live a more authentic, wholehearted life. I highly recommend viewing Brené's TED talks as well to support this reading.
The Last Lecture
Randy Pausch
Knowing his life is ending soon from terminal cancer, Professor Pausch delivers an inspirational last lecture filled with his life lessons learned and the sharing of great wisdom.
The War of Art
Steven Pressfield
I've reread this book dozens of times and continue to. It's a quick read of tough love that helps you understand how "resistance" gets in your way of achieving goals, and this resistance is from you.
Tools of Titans
Tim Ferriss
A great skim through read highlighting tactics, routines and wisdom from billionaires, icons and world-class performers.
Thrive
Arianna Huffington
This book challenges the stereotypes of success and highlights the value of wellbeing, wisdom and wonder.
Getting Things Done
Dave Allen
A great read that outlines an efficient productivity system that is sure to change how you approach any project and task going forward.
Daily Rituals: How Artists Work
Mason Currey
An interesting read about the daily routines of people throughout history.
Books About Business and Entrepreneurship
Business Made Simple
Donald Miller
A class-like book format that guides you through foundational business concepts in 60 days, with reading and valuable videos. It is what it describes: simple. No MBA jargon, just understandable steps.
Business Model Generation
Alexander Osterwalder
A great workbook style that teaches the Business Model Canvas with practical examples of business models and structures in order to help you define your own business canvas.
Design is a Job
Mike Monteiro
A tough love book that helps you understand the value of design and to charge what you're worth.
Joy, Inc.: How We Built a Workplace People Love
Richard Sheridan
A deep look into how Menlo Innovations, a software company, operates and what makes their organization so successful that it draws in many people to visit and tour their location.
Love is the Killer App: How to Win Business and Influence Friends
Tim Sanders
Understand how to be successful in business by being a "lovecat", someone who shares their intangible knowledge, network, and compassion.
The Likeability Factor: How to Boost Your L-Factor and Achieve Your Life's Dreams
Tim Sanders
Learn how to raise the five characteristics that help you be likeable, and ultimately successful in business and in life.
Never Eat Alone: Secrets to Success, One Relationship at a Time
Keith Ferrazzi
Learn how to network and build relationships that will help you connect and become more successful.
The Lean Startup: How Today's Entrepreneurs Use Continuous Innovation to Create Radically Successful Businesses
Eric Ries
Learn the importance of and how to test your vision continuously and pivot as needed in order to become a successful startup.
Let Go
Pat Flynn
The life story of Pat Flynn who shares how his sudden loss of his architect job led him to pursue entrepreneurship with passion, purpose, and tremendous drive.
The Starbucks Experience: 5 Principles for Turning Ordinary Into Extraordinary
Joseph A. Michelli, Ph.D.
An interesting inside look into how Starbucks delivers a unique customer experience and what makes it work.
The Tipping Point: How Little Things Can Make a Big Difference
Malcolm Gladwell
A study into how an idea, trend, product, or social behavior tips at a particular point and spreads like crazy. Then understand how brands can apply this mapping.
Good to Great: Why Some Companies Make the Leap...And Others Don't
Jim Collins
An exploration of many company studies and identifying what makes a company go from good to great, from mediocre to highly successful.
Talent Is Not Enough: Business Secrets For Designers
Shel Perkins
A book outlining business concepts essential for a designer to understand in order to be successful as a freelancer, contractor or agency employee. Designers need to understand the business side.
Building a StoryBrand: Clarify Your Message So Customers Will Listen
Donald Miller
One of this most influential books I've ever read, Miller shares the outine for how to clarify a brand's message in order to achieve marketing success.
Marketing Made Simple
Donald Miller & Dr. J.J. Peterson
An expanded version of "Building a StoryBrand", this book dives deeper into customer touchpoints and sales funnels.
DotCom Secrets: The Underground Playbook for Growing Your Company Online with Sales Funnels
Russell Brunson
A deep look into understanding sales funnels and how to make them work for any type of business.
How to Write Copy that Sells: The Step-By-Step System For More Sales, to More Customers, More Often
Ray Edwards
A formula for how to write effective copy that sells for many types of digital and print content placements.
Purple Cow: Transform Your Business by Being Remarkable
Seth Godin
A quick read that shares how to develop marketing that cuts through the noise and has a positive and effective impact.
Books About Research and Design
Designing Brand Identity
Alina Wheeler
A great visual book that explains how to design for brand identity and with many well-known brand examples included.
Making and Breaking the Grid
Timothy Samara
A great book to reference when you need help understanding all possible grid layouts that can be used as the foundation of a design.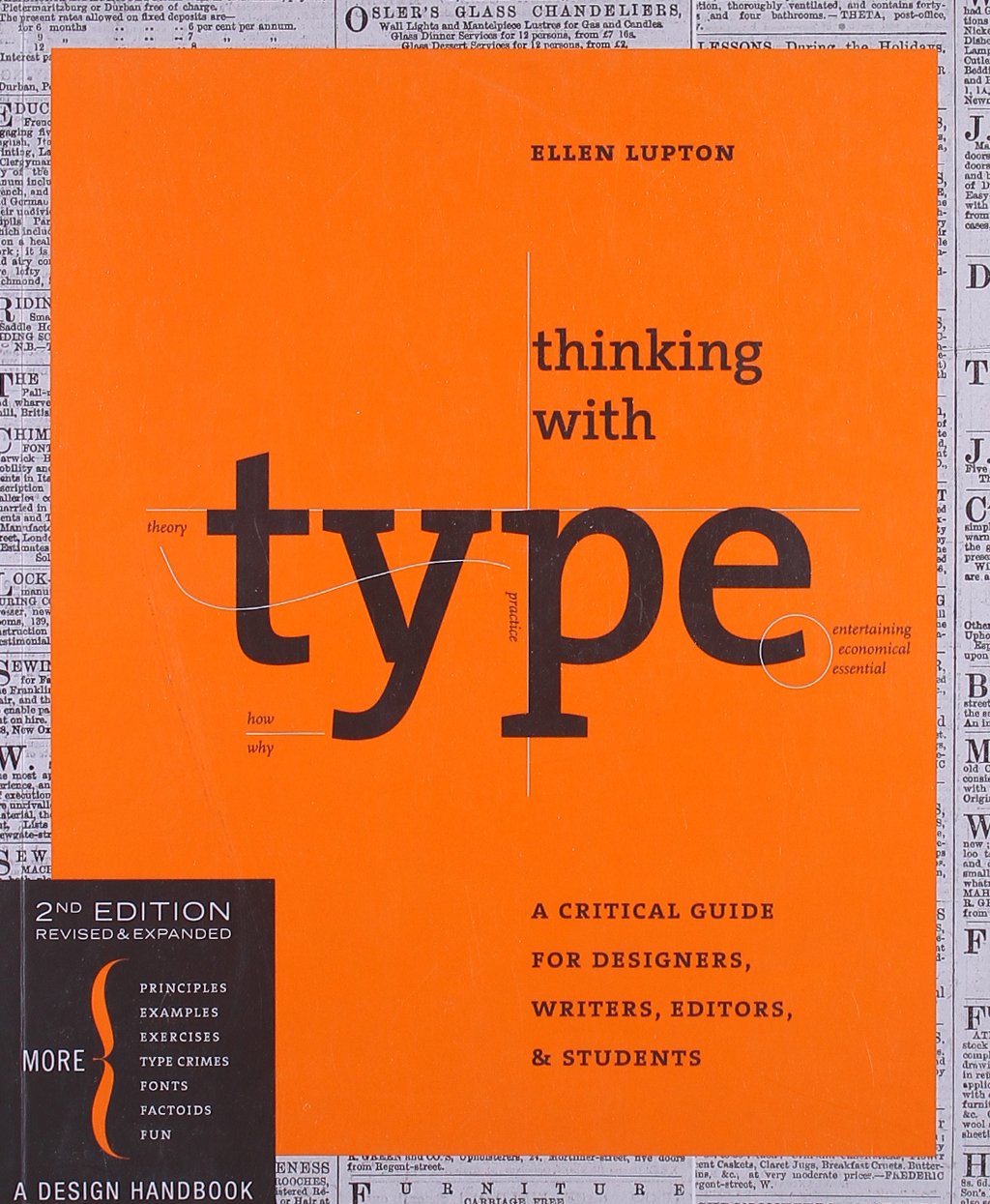 Thinking with Type
Ellen Lupton
Typography is so key to the success of a design, and this book helps provide background as to why this is and shares the technical to how type works.
Observing the User Experience
Elizabeth Goodman, Mike Kuniavsky, Andrea Moed
A deep dive look into understanding all areas of User Experience (UX) research.
The Complete Guide to Writing Questionnaires
David F. Harris
There is value in knowing how to ask the right questions in order to receive valuable data to then make better decisions. This books helps you understand how to better think like a researcher.
Just Enough Research
Erika Hall
A look into various research methods and processes that helps research go faster by asking the right questions and understanding the findings. It highlights how everyone on your team can and should do research.
Practical Design Discovery
Dan Brown
A look into how to do the design discovery process the right way when it comes to product development.
A Guide to Graphic Print Production
Kaj Johansson, Peter Lundberg, Robert Ryberg
A very technical look into all things about print production and its processes.
Designing with the Mind in Mind
Jeff Johnson
Understand the psychology and common Human-Computer Interaction (HCI) behaviors as it pertains to User Interface (UI) design.
Letting Go of the Words
Janice (Ginny) Redish
A great visual read that highlights many examples of how to effectively (or poorly) present content on websites.
Don't Make Me Think
Steve Krug
A long-running book that helped kick off the importance of web usability and teaches how to avoid cognitive overload in a User Interface (UI) design and improve User Experience (UX).