I recently came across an article I wrote back in 2015, the direct middle of my attending grad school at the University of Michigan. I wrote a reflection about Why I Went to Grad School, and in reading it today I still find that this rings true; that I wouldn't change a thing. This also holds true for my undergrad. It was a worthwhile experience I'll always hold close.
I didn't passively take classes and do homework, though my introverted self would have been totally fine with staying in this box. I made a choice to seek out the support I needed to reach goals I came in wanting to achieve. Taking classes was just a subtask under this.
In looking back it re-energizes me to continue pursuing my passions today. The greatest lessons I learned in school were through doing entrepreneurial projects, and what better place to pursue them but within an educational environment.
"Education is meant to be the process by which we help people certainly understand the world around them but also understand the world within them. And it's really only when we understand more about the world within us that we can fully engage with the world around us."

Sir Ken Robinson
I think this quote perfectly reflects my reasoning for pursuing a higher education, for taking on individual side projects, and for studying even when something isn't assigned to me—I value learning and exploring both the world around me and, more importantly, the world within me. And in doing this, I realized I have the ability to make a positive impact.
Engaging in entrepreneurial activities during my college years were life-changing experiences. I met and learned from inspirational mentors, worked with amazing students across many disciplines, and I discovered what it truly means to pursue something with purpose.
Perhaps my reflection here may inspire you to try going after your ideas, goals, and passions. You may think your idea is small as I did myself at first. But if you really give it a go you may be surprised and experience the value of doing something bigger than yourself.
---
Making an Impact in my Community
I didn't realize it at the time, but my first entrepreneurial experience was during my early college years when I did an independent study to pursue a project idea I felt driven to do. Deeply impacted by knowing someone who committed suicide, and alongside other personal elements that weighed me heavy, I wanted to do something to wake up the local community to the general issues that teenagers face. So I spoke with my professor, and she mentored me through the semester project, meeting each week to review and stay accountable for continued progress.
I started the project with research, and a lot of it. I interviewed dozens of stakeholders; parents, counselors, community members, teachers, and teens. I visited high school classes to conduct written surveys with students, who were surprisingly very honest about the challenges they face like depression, bullying, drugs, low self-esteem and peer pressure. Not realizing I was doing design thinking exercises I created all sorts of post-it note mappings, and I revisited stakeholders to validate my understanding of the issues.
Despite being extremely introverted I attended community town halls and events to learn more about these issues and spread awareness about my project. These events inspired me to volunteer for the Livonia Save Our Youth Coalition which I still engage with today. I learned to love volunteering, and this has positively shaped my life in many ways.
I received donations and some small funding which helped me market my project and launch the product, which was a 50-page website of educational content about all the teen challenges I learned about. I wrote all the content, hand-coded the site, and created a brand called "A Dozen Reasons," because there were a dozen reasons why the community should pay attention.
The experience of this venture was life-changing. I didn't know I had it in me to do all that I did outside of my comfort zone and to make a difference even if only small.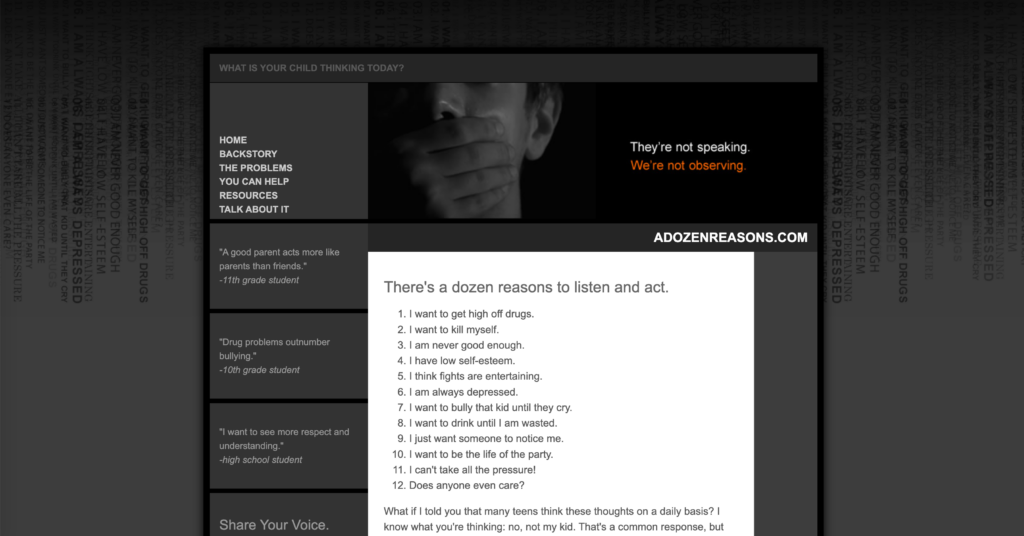 ---
Raising the Bar of Entrepreneurship in Grad School
I entered grad school with a list of venture ideas. I came across an entrepreneur who worked at the school and whom I thought could guide me in making my goals happen. I reached out to see if we could meet, and this single outreach shifted my entire grad school experience. I shared with her my long list of life goals and projects I wanted to achieve, and we narrowed down with prioritization.
One idea I had was to create an app that would help patients remember their medications. Through encouragement by this mentor, I exhibited my idea at a health event. Not only did I receive helpful feedback from attendees, I met a student who would become a key team member in helping bring this idea to life, and together we took a great entrepreneurial journey.
We soon became a team of five who worked voluntarily toward creating LivPoz, later named LivWel, an app that helped people living with HIV find resources and support (which yes, this is still a problem globally and locally). Knowing someone who almost died of HIV/AIDS of which led to their medical adherence complications among many other challenges, I had a personal drive to make this venture a success.
Our team participated in every opportunity we could to grow forward, and I was proud of our team's work ethic and commitment to this cause. I learned so much during this entrepreneurial experience, stuff you just can't get in a classroom alone, such as:
how to use design thinking to discover and solve a problem for a customer.
how to look at business models.
how to interview when we did to dozens of stakeholders to validate our idea.
how to do research, really good research from all sources and mediums.
how to work fast when we participated in various incubators.
how to better present when we pitched our product in endless competitions.
how to quickly build a brand and messaging strategy.
how to write when we did for grants and funding opportunities.
how to hire, onboard and even let go of team members.
how to manage funding and a budget.
how to have effective project management to achieve tasks and milestones.
how to efficiently run meetings and take notes to ensure best use of time.
how to show up everyday, to move the needle forward a little bit as a team.
how to celebrate the wins as a team and get through rough phases of development.
Above all I learned the importance of pursuing something meaningful and gathering the right team who are also dedicated to the mission to accelerate goal progress. The right team is so important.
Solving a Problem Creates Internal Drive
This drive to solve a problem is what kept me going for the few years the venture was active during grad school. I worked on it wherever I could in the classes I took (which I recommend), but the majority of this work was outside the classroom.
At the time I was working at a full-time job. I was doing freelance design work for clients. I was taking multiple classes at a time of which were incredibly time-consuming and required a lot of group work (when in-person meetings were the thing and not Zoom). Even though I had a crazy schedule, I still made time for this startup because its flame of purpose was within me. Though I don't advise, going home past 1:00 a.m. from campus every night became my regular schedule rhythm. But when you're working on something you care about the time escapes you and the work feels effortless.
The work I did in this startup far surpassed the venture I did in undergrad, and I'm happy it did. It showed that I was continuing to grow and push myself out of my comfort zone. It continued to teach me that you can indeed make goals happen when you at first thought you couldn't. And lastly it showed me the importance of living out a mission statement instead of having one plastered to a wall.
"The greatest satisfaction in life comes from knowing that you have made a difference in the world, that you have contributed something meaningful and valuable to the lives of others."

Jordan B. Peterson
---
Apply What You Learn in Real Time at School
I remember the classes I took, and I gained valuable information here; but I remember even more the application I did with my education through entrepreneurship. That's where the true learning came in, when teachings met application. It doesn't need to be sequential. You can do both during your educational career, but it takes an extra step of effort.
If you would have told me I was going to do all this extra work in undergrad and grad school I would have labeled it as nonsense. I was busy enough. But I internally knew I wanted to make the most of my education (especially when I worked crazy hard to pay for my schooling in cash 10 of my 12 college years; I made it worth it).
I also internally knew I wanted to make a positive impact, and the small thank-you cards I received by surprise throughout both ventures from the people myself and team were trying to help absolutely made it worth it. There's nothing like the feeling of giving back.
You can go to school and just attend classes and do homework. There's nothing wrong with this, but you may miss out on discovering your true potential. In summary, here's some tips to make your educational experience more impactful:
Identify the things you're passionate about.
Try something entrepreneurial to solve a problem.
Have this venture be something bigger than yourself.
Seek out mentors to help guide and support you.
"Do what is meaningful, not what is expedient." (Book: 12 Rules for Life by Jordan B. Peterson)
"Meaning is not something that you discover, it's something that you create through your actions. You have to take risks, try new things, and push yourself out of your comfort zone in order to find meaning in life."

Jordan B. Peterson
Have an idea to make a difference in the world? Don't doubt yourself. Go do it.
And if you're wondering if I'm still doing startup work…I am. It's right here called BrandRoots. My days are long, but the mission fuels me to continue its development. If you're interested in learning more about it, please reach out.